December 28, 2003
REALISM AND SAUL LANDAU
If people haven't worked out by now that the turkey wasn't plastic, it kind of disqualifies them from opining on more complex subjects, wouldn't you say? Here's Saul Landau writing about Realism and Fanaticism:
Almost ten months after Bush invaded Iraq, seven months after his "mission accomplished" speech-photo op on the aircraft carrier Abraham Lincoln, and one month and many deaths after his Thanksgiving plastic turkey pose in Baghdad, the President faces serious problems.
A useful working definition of fanaticism might be the absolute refusal to believe this turkey is genuine. What roast conspiracy do Landau and the other plastic fanatics expect from Bush next Thanksgiving?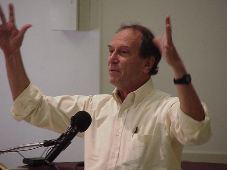 Professor Landau reveals Bush's 2004 stealth turkey
UPDATE. Two-time offender W. David Jenkins writes:
Once again, just like the Lynch story or the plastic turkey stealth mission - things aren't always what they seem.
On the contrary, W. Dave. The turkey seemed real -- and it was. And from an unknown Charlotte Sun-Herald fact gobbler:
From his jumpsuit landing on an aircraft carrier to serving a plastic turkey to the troops in Baghdad, President Bush was never far from a photo-op.
Posted by Tim Blair at December 28, 2003 05:14 PM